The hotel at
Pacolet Mills
was a landmark for many years. It was located at the top of its namesake, "hotel hill", near Victor Park and across the road from the
Pacolet Mills Elementary School
. The hotel was built about 1920 and torn down during the 1960's. The hotel was originally known as The Victor Inn and served as a residence for the teachers of the elementary school and some officials of the mill. Later it became a boarding house and a regular hotel.
The open porch and rocking chairs of the hotel.
The following newspaper article was in the Spartanburg Herald Journal on April 16, 1951 (Courtesy of the Pacolet Museum).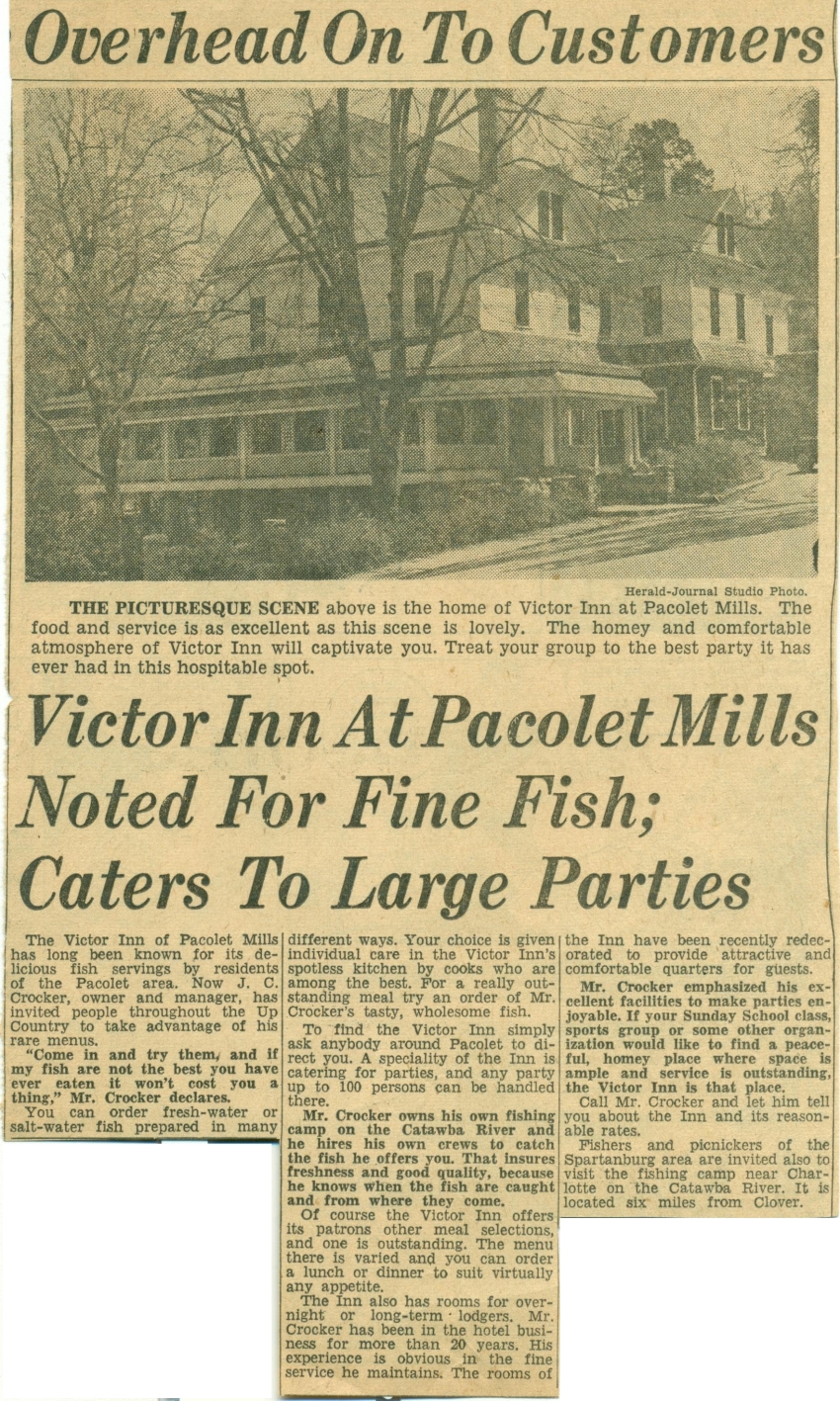 (I received an email from R. D. Lumpkin that gave the following interesting information about the hotel based on his personal experience with it.)
The Victor Inn was torn down in the early 60's.

My parents moved away from Pacolet in 1959 while I was a senior at Pacolet High. I lived in the old hotel until after my graduation. I was back often in 1960 for visits and stayed at the hotel

I lived in the old hotel from June 1958 to September 1959, while finishing Pacolet High School. During that time, I worked at Brown's Store part time. After graduating Pacolet High, I relocated to Atlanta to continue school.

On the weekends, after moving to Atlanta, I would return and Blanche would have my old room ready for me. She was a true delight and pleasure to be around. She and her son lived on the first floor. Her son, (Olin - [Bot] ) had a hammock on the first floor porch where he slept during the summer. Blanche also managed the Café in the Filling Station.

The building was four stories. The first floor was for the resident manager, Blanche Arnold and her family. The second floor consisted of the big porch, main entry, kitchen, and large dining room. The third and fourth floors were for the guests. The rooms were large and each floor shared a large bath room with several shower stalls. Floors were heart of pine with walls and ceilings tongue and groove.

The dining room was open to the public, three meals per day Monday-Friday and lunch on Saturday, the food was excellent.

Looking at the picture, my room was on the left corner above the porch (third floor). There were only three full time guests. Most of the guests were there on the weekends.